I'm so excited to share with you this great documentary series- Broken Brain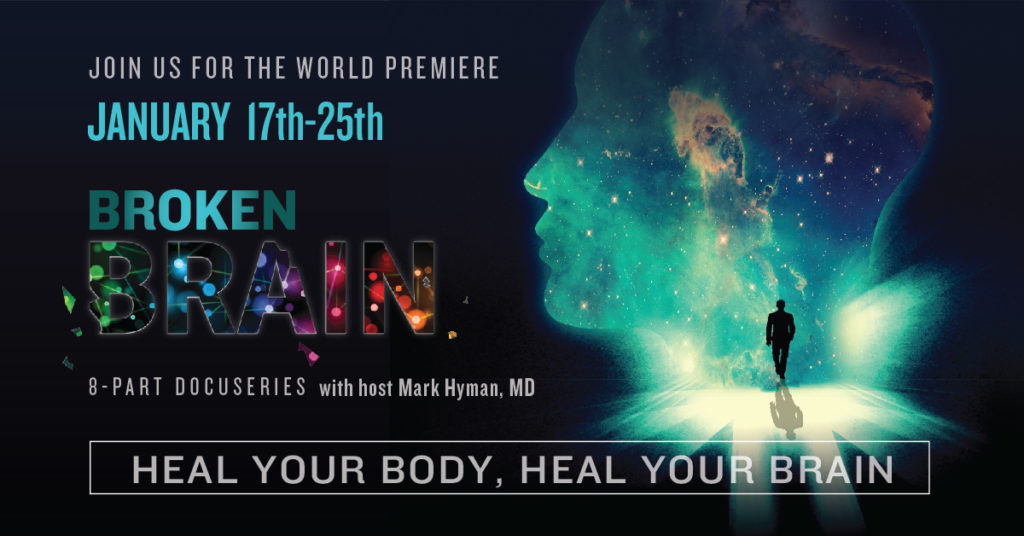 Depression & Anxiety: is your gut the key?
It is common for many if not all autoimmune diseases to have brain symptoms in common- hello brain fog anyone? Nevermind all the actual autoimmune disease that involve the immune system attacking the brain!
 What do Depression, Poor Concentration, Mood Swings, and Anxiety all have in common?
All of these conditions are part of the epidemic of broken brains—and they start in your gut. Click here for immediate access to the trailer for Dr. Mark Hyman's new documentary, Broken Brain, which explains this "gut-brain" connection.
If you struggle with anxiety or racing thoughts or feeling hopeless, sad, or otherwise mentally fragile, you're not alone.
Dr. Hyman is one of the leading minds in modern-day health, and I am privileged to bring this to you as part of my inner circle. Just click here to watch the trailer.
Here are the facts:
Literally one in three people struggle through life with anxiety or depression.
Chronic stress increases inflammation, which increases anxiety and depression.
Pharmaceutical companies are quick to pick up on this broken brain problem, but conventional medicine cannot cure it.
This documentary series, starting on January 17th, is your entry point to the newest information and cutting-edge tools and protocols to change the course of depression, anxiety, mood swings and more.
We CAN change this. And remember, depression, anxiety, mood swings… these are all part of the epidemic. Owning this series gives you the information you need to chart a new course NOW and create your best life down the road.

AND ownership also provides you with a great workbook to use and follow along with throughout the episodes.
Click here ASAP to save your seat… and please share it with someone you love.
P.S. Here's a list of ALL the episodes, to showcase just some of what you will have access to. Each episode will be available for 24 hours, for free!
The Broken Brain Epidemic / My Story (January 17)
Gut Brain Connection: Getting to The Root of a Broken Brain (January 18)
Losing Your Mind (Alzheimer's, Dementia, MS, and More) (January 19)
ADHD and Autism (January 20)
Depression & Anxiety (January 21)
Traumatic Brain Injury: Accidents, Sports, and More (January 22)
7 Steps to An UltraMind (Part 1) (January 23)
7 Steps to An UltraMind (Part 2) (January 24)
Click here to gain access to the entire documentary series (at NO cost) and get the latest information on depression and anxiety.